Camping Corcovado
Here at Corcovado Adventures Tent Camp, we offer you an affordable and comfortable opportunity to explore one of the most beautiful locations on the planet, the Osa Peninsula of Costa Rica. We are located just southwest of Drake Bay on the western side of the Osa Peninsula. Our Camp is close to Corcovado National Park and Caño Island Biological Reserve. This paradise is a combination of tropical wilderness and beaches, catalogued by the National Geographic Society as "one of the most biologically intense places on Earth!"

Comfortable Camping in Paradise
Camping corcovado adventures faces the ocean, backed by the jungle…this is as close to nature as real comfort will allow. Each private tent is covered to protect you from the elements, and is set on an elevated wooden platform giving you a spacious front porch from which to enjoy the sights and sounds of the Pacific Ocean. Outfitted with full-size beds, bedding and night tables; each tent is strategically positioned to provide privacy and a spectacular Pacific view. Whether taking in the sunset over a cool drink on your own veranda, or screened in at night listening to the sounds of the jungle, you will find your Corcovado Adventures tent surprisingly comfortable. We give new meaning to the idea of roughing it.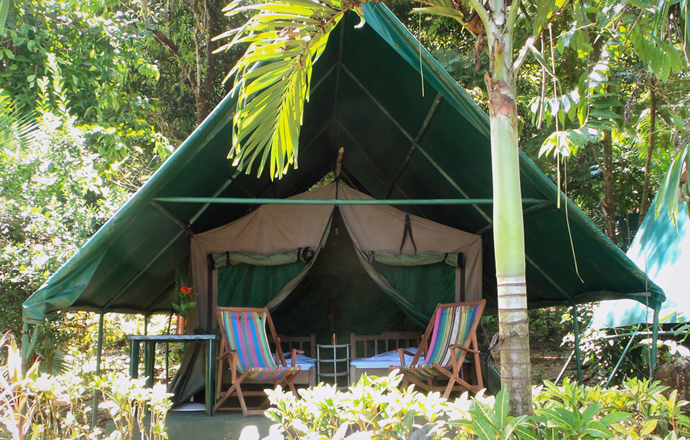 Spend some time with Nature
Come and share this paradise with over 350 species of birds – Scarlet Macaws, Toucans, Trogons, and at least 7 types of Hummingbirds right in our Camp! Our flowers attract numerous species of butterflies, including the famous Blue Morphus Butterfly.  In addition, we are visited regularly by White- faced, Congo and Spider-Monkeys. We offer tours to Corcovado National Park and Caño Island Biological Reserve, as well as Horseback Riding, Surfing, Fishing, Bird Watching, Scuba Diving, Snorkeling, Kayaking, Hiking, and much more!
Friendly service and great food !